FUMIKODA's standard, ultra -light backpack that can be used for business
Billy, which was developed with Japanese craftsmen as a "ideal backpack" based on the questionnaire, is super lightweight, about 550g of M size and about 750g of L size.
We adopt Japanese vegan leather, which is used as the interior of luxury cars, not only lightness but also storage capacity, durability, water resistance, and antifouling.
A 2 -way specification that makes it easy to put a notebook PC or smartphone in and transform into a shoulder bag in an instant. It is active in various scenes in both casual and business.
▼ BILLY M size
▼ BILLY L size
Lightness of surprise

Lightness that cannot be imagined from the appearance.
The moment you have it, you will hear a voice without thinking, "What?, Light!"
Despite the moderate thickness and firm body, it realizes the lightness of only 550g in M ​​size!
It is less than half the same size leather backpack of the same size.
Active in various scenes and fashion

Because it is a simple and stylish and sophisticated design, it fits in various scenes and fashion.
Easy, quick and convenient "2way"

You can easily switch to a shoulder in an instant without replacing it, such as when carrying a backpack on the train gets in the way.
Large capacity, smoothly putting and putting in and putting out documents

It is a partition that can store documents and laptops, and has a storage pocket that puts accessories.
The inside is suede tone, and it is difficult to scratch it even if you put something important.
Smartphones, business cards, and wallets are smoothly put in and out with confidence

There is a zipper pocket on the back, so you can put it in and out safely, secure and secure.
Strap that is gentle on the shoulder

By layering lightweight but durable artificial leather with the shoulder strap part, it creates cushioning and reduces the burden on the shoulder due to weight.

The length of the strap can be adjusted in 6 levels

The strap can be adjusted to 6 steps (67cm to 92cm) according to the height, scene and application.
Straps that are hard to slip off your shoulders

When carrying a backpack, the strap specification has been devised so that the fit to the back can be felt. It suppresses the spread of the strap as much as possible, and adopts a bracket that is hard to slip off the shoulders.
Handle that is easy to hold by hand

The width of the handle has been devised so that even a large hand is easy to grasp. You can hold it firmly without putting a burden on your finger.
A texture that surpasses genuine leather bags

The use of high -quality state of high -quality artificial leather, which Japan is proud of in the world, and Japanese craftsmen handmade one by one with craftsmanship, so it has a texture that surpasses genuine leather bags.
Reliable even in sudden rain

The artificial leather used in the bag has high water resistance, so you can use it with confidence even in sudden rain.
I don't panic even if I spill coffee or juice

It is hard to get dirty and can be wiped off immediately even if it gets dirty, so it is easy to clean coffee and juice in a bag.
A backpack that can be placed on the floor

Six heights and placements have six bottom studs created a sense of stability, and can be independent even outdoors or indoors.

 
Billy can be selected from two sizes of M and L according to your height and style.



本体素材

高耐久ヴィーガンレザー(日本製)

サイズ

L:W30cm x D13cm x H42cm (57~82cm)
M:W26cm x D12cm x H37cm (57~82cm)

※PC仕切り対応サイズ
13インチ:W30.41cm x D21.24cm x H1.56cm
16インチ:W35.79cm x D24.59cm x H1.62cm

重量

L:750g前後
M:550g前後

容量

L:約15L
M:約10L

耐荷重

L:10kg
M:6kg

カラー

アイボリー(パイソン柄の型押し)、ベージュ、カーキ、ブラック、ネイビー、スペースシルバー、ホワイト

生産国

日本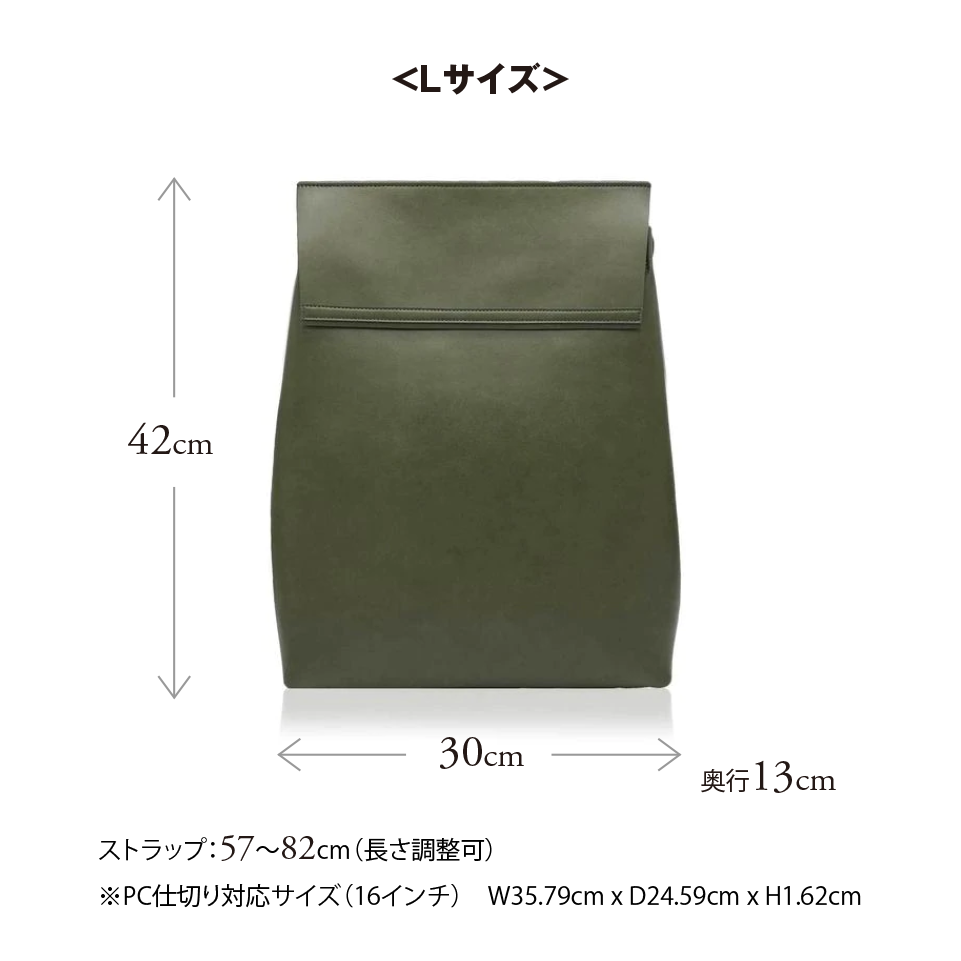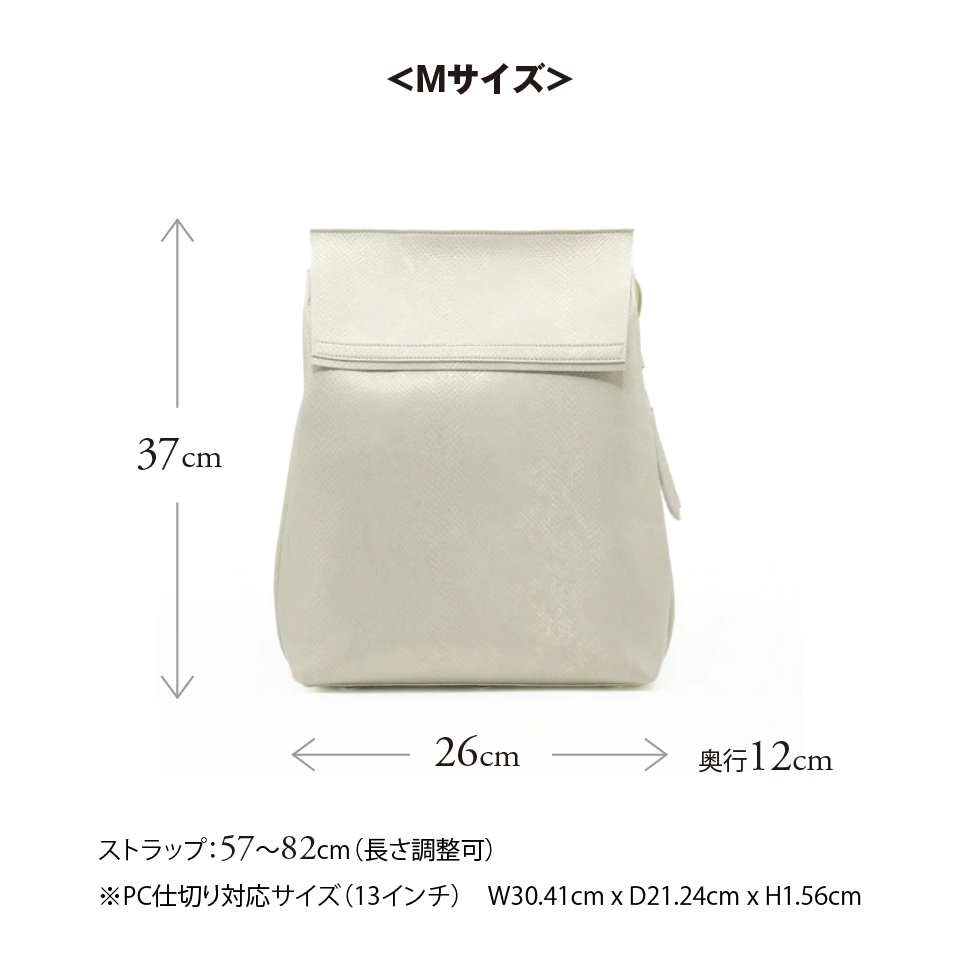 Shipping Information

The shipping fee is 1,000 yen (tax included) nationwide, and 1,500 yen (tax included) for Okinawa and remote islands.
If you do not specify a delivery date, your order will be shipped within 3 business days.
Domestic delivery is by Kuroneko Yamato only.




※For customers using the rental service

Rental service is free shipping.
Please note that the shipping schedule for rental items is set in the order in which they were ordered, and we do not accept requests for specific dates and times.

For more information, please check the FAQ.

About payment methods

Credit card payment (VISA, Master Card, American Express)
AmazonPay
Convenience store payment
At FUMIKODA, we strive to ensure that our items are cherished by our customers for a long time, and for this reason, we have skilled craftsmen dedicated to handling repairs. We take great care during the repair process to maintain the original character of the product, considering the overall balance so as not to compromise its unique charm.

For customers who have purchased within 1 year:
If any issues arise within 12 months of purchasing at the official retail price from an authorized dealer, we will gladly handle the repair free of charge.
For customers who have purchased over 1 year ago:
If you wish to repair a product purchased at the official retail price from an authorized dealer and it has been more than 12 months since the purchase, we will review your inquiry and provide a repair estimate after confirming the details.
For customers who have purchased over 5 years ago:
If you wish to repair a product purchased at the official retail price from an authorized dealer and it has been more than 5 years since the purchase, please note that after reviewing your inquiry, we may decline the repair. Kindly understand this possibility.




For more details, please refer to the Maintenance Service page.
使い勝手がいい!
通勤用のリュックを買い替えたいと、探していたところたまたま大丸に出店していて、一目惚れしてしまいました。その場で決められず、ネットから購入しました。リモート用のパソコン(ケース入)を入れるとなるとLサイズが使い勝手が良さそうでしたが、身長159㎝だと、背負った感じ大きすぎるように感じたので、迷った末にMサイズを購入。色もベージュにするか、アイボリーにするか迷った末、パイソン生地のアイボリーに決めました。
光の加減によりキラキラして、素敵です。周りからの評判もいいです。
折畳傘やポーチ、長財布を入れるため、厚みのあるパソコンを入れるのは無理ですが、タブレットなどは収納部分もあるため、A4サイズの薄いものなら入ります。
仕事でもプライベートでも、使い勝手がいいので、とても気に入りました。
ポケットの少なさは全く問題ありません!
これまで使っていた布製のリュックには、多数のポケットがあって持ち物を分けて入れており、こちらはポケットが少ないことが気になっておりました。でも、スタイルの良さと軽さに惹かれて思い切って購入し、使い始めてみたところ、別にポケットにあれこれ分けて入れなくても、実はまったく問題がないということが判明!! あの、多数のポケットに翻弄されていた(時々、どこに何を入れたかがわからなくなっていた)日々はなんだったのか....と、一人、苦笑してしまいました。
ポケットがない分、本体がとても軽いので、MacBookを持ち歩くのもまったく苦になりません。 大切に、長く使い続けていきたいと思います。
アイボリーL、タッセルはホワイト
プライベートのお出かけと仕事の出張に両方使えるものがほしくて購入。
軽くてプルンっとした触り心地、パイソンのような模様と適度な光沢感が良いです。
リュックの形で片方の肩にかける、リュックとして背負う、バッグにして肩にかける、
どの使い方も可愛くて美しく大満足です。(友達が撮った写真、後ろ姿が映り込んでいて感激)
お部屋に置いても可愛い。
でも、ポケットがないのでいちいち開閉するのが面倒ではあります。
ARIANNAのようにスマホを入れるポケットが外側にあればと思ったのと
ペットボトルを入れるポケットがあればいいなと思いました。
そうすると見た目がかっこ悪くなるんですよねぇ。
結局、お財布とちょっとしたものをすぐ出せるようにポシェットや小さなバッグを持つことになりました。
とはいえ、★を減らす気になれないくらい可愛くて素敵なリュックです。
もともと荷物が多いので、ARIANNAを追加で買おうと思っています。
タッセルのアイボリーが欠品でしたが、近い色を合わせるのもよいとオススメいただき、
ホワイトのタッセルにしました。
お店にお電話をしたらとても丁寧に対応いただきました。ありがとうございました。
ブラックのM
コンサートなどちょっとお出かけ用にしたくて買いました。
やはり日本製は安心できますね。縫製などクオリティが素晴らしいのは、見て触ってわかります。人工のレザーも触ってなめらかで素敵。これからずっと使います。
いろいろまたアイテムを買い足したいですね。お店でご対応いただきありがとうございました。
サイズは重要
購入したLサイズが用途に合わず苦労して使っていましたが、XLサイズ店舗販売のご連絡をいただき、思い切って購入しました。
悩みはほぼ解決し、それほど大きくも見えず、重くもならず、快適です!
底までが深いので、小物は沈みます。バッグインバッグは必須です。
傷も汚れもつきにくいので、仕事とプライベートでサイズを使い分けて、長く愛用しようと思います。
出張用に購入
実物を見ず、商品レビューを参考に購入いたしましたので商品が届くまで不安でしたが、色・形共にとても美しく、大変満足しています。
やせ型なので、一般的なリュックだとどうしても背負われてる感が否めませんでした。
他の方もおっしゃっていますが、15.6インチのPC、PCの電源ケーブル、ポーチ、ペットボトルなどを入れるとファスナーを閉めるのに少々手間取り、いつかファスナー部分が破れてしまいそうだなと思います。(縫製はしっかりされていいます)
以前はXLサイズがあったようですので、再販されましたらそちらも購入したいと思います。
是非、再販をお願いいたします。
それでも気に入っている
軽くて薄くて、人からもスタイリッシュ!と褒められ満足です。
会社支給のPCが15.6インチなので、16インチまでとあったLを購入しました。
高さはギリギリ入りますが、他のものの厚みが少しでも余分に出るとファスナーが閉まらなくなるので、バックインバックで全体に荷物が薄くなるよう工夫して入れています。
その分、背中側のポケットには通勤時に出し入れするものを入れたいのですが、マチがないため、出す時に他の物も一緒に飛び出してきたりすることも。ワンショルダーにしていると、肩紐で押さえられて尚更出しにくいのも難点です。
片面だけマチをつけるか、L字型ファスナーだったらいいなと思いました。
小柄なせいもあり、今までどれだけ薄手と言われるリュックを使っても、登山?兵隊さん?と言われていたので、この見た目は捨てがたいです。
XLの再販売があればそれも検討したいですが、詰め方のコツを掴んで長く愛用したいと思っています。
Macbookか13インチまでならL、そうでなければXL
BILLY XLサイズがクラウドファンディングで発表され、Lサイズが気に入っておりましたので速攻で購入いたしました。
会社支給のモバイルではない大型ノートPCや、私物の14インチノートPC(保護ケースに入れた状態)が手持ちのLサイズだとギリ入らず悲しかったのですが、XLには余裕で入りました。
手持ちがMacbookか13インチまでならL、そうでなければXLにすると良いと思います。
XLでは、Lを買うときに悩んだベージュにしましたが、オンオフ両用で行けそうな佇まいが気に入っています。
どんなスタイルにも合わせやすくて素敵
仕事メインで使用したく、リュックだとどうしてもカジュアルに見えて、仕事向けだとメンズライクなデザインが多くしっくりくるものがなかったんですが、BILLYはデザインが素敵でとても気に入ってます。
通勤時やリュックの中から物を取り出す時に瞬時にショルダーにできるところも使い勝手が良いです。
希望としては、開き口が少し狭く物の出し入れがしにくいので底部分含め全体的に広くしてもらいたいです。
デザインを考えると難しいかもしれませんが、外側にタンブラーなどを収納できるポケットがあると嬉しいです。
馴染んできたら改善される可能性がありますが、ショルダーに変更する時に通すリング部分に余裕がないので太い部分を通す時に滑りが悪く感じます。
希望はあれど掃除で満足しております。
クリエイティブディレクター 幸田フミの想い
誰もが快適で心地よく。どんな時も自分らしく。
日本の美意識をまとい、地球にも動物にも人にもやさしく、軽やかに生きる。

そんな想いでFUMIKODAを立ち上げました。
「スマートコンフォート」なライフスタイルを、日本から世界へ。

>CONCEPT